The language of this website is controlled by the settings of your browser. You can select other languages via "Change"!
Goldair – Maximum safety and reliability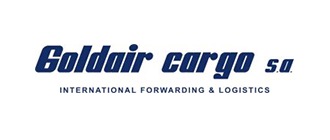 Goldair is a leading provider of ground handling services in South Eastern Europe. In Greece, Goldair offers a complete range of passenger, ramp, aircraft, freight and postal services. Goldair has been operating its own cargo terminal at Athens International Airport since 2001. The 6,000 square metre terminal is used, among other things, for handling freight and has a bonded warehouse as well as cold storage and freezing rooms. The Goldair logistics centre handles millions of product codes and thousands of shipments every year. In cooperation with forwarding agents all over the world, the freight is transported to the warehouse and from the warehouse to the destination - with the highest level of safety and reliability. Goldair successfully cooperates with its partners in the European Food Network on temperature-controlled partial loads of food products throughout Europe.