Dachser Food Logistics and Heidelmann extend partnership – Collaboration at regional and European level
Kempten, March 11, 2021 – Dachser has been collaborating with German logistics company Heidelmann in the field of food logistics for 25 years. Their partnership at the European level has now been extended for the long term.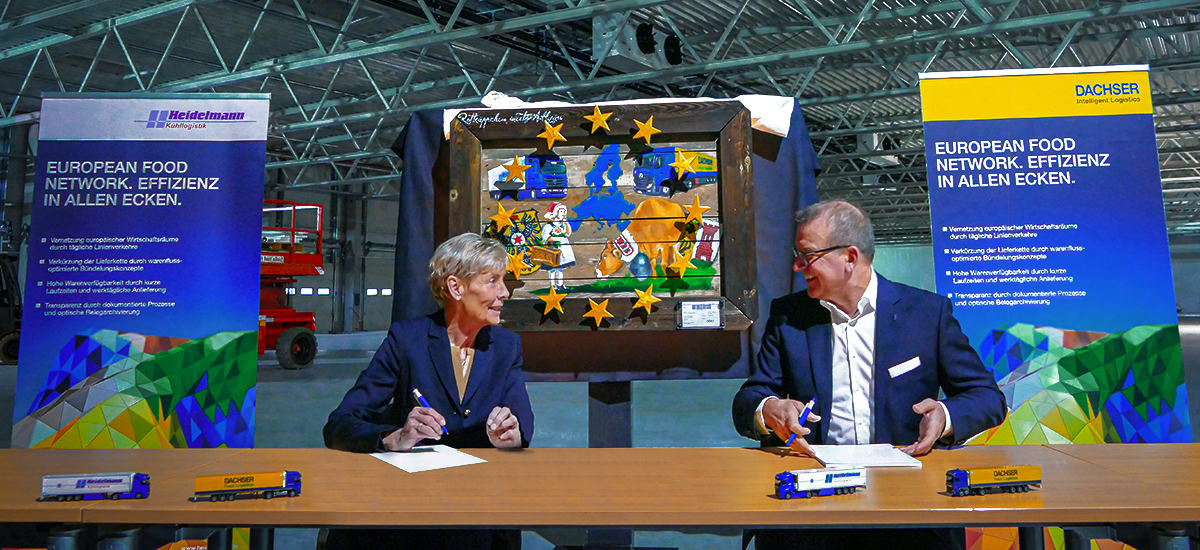 Ute Bischoff, managing partner Heidelmann and Alfred Miller, managing director DACHSER Food Logistics
Headquartered in Schwalmstadt in the German state of Hesse, Heidelmann is the longest-standing partner of Dachser Food Logistics. Within the Dachser network, Heidelmann has been responsible for temperature-controlled deliveries and supporting distribution and warehouse customers in northern Hesse since 1995. In December 2020, Dachser and Heidelmann extended their cooperation agreement for the long term.
"Our companies can look back at a successful partnership characterized by continuity, mutual reliance, and a constructive, trusted, and friendly working relationship," says Alfred Miller, Managing Director of Dachser Food Logistics, in describing the collaboration to date. "We look forward to our continued collaboration over the coming years, which I'm sure will be just as fruitful."
Growing together
Just like Dachser, Heidelmann is a founding member of the European Food Network, an association of leading European food logistics providers. Using the temperature-controlled transport network, customers of both these family-owned companies can distribute their food products as part of very frequent and fast groupage shipments with set delivery times across 34 European countries.
At its headquarters in Schwalmstadt, Heidelmann is currently building a new logistics facility, which will open in June this year. "The new building is also an investment in further joint growth," says Ute Bischoff, Managing Partner at Heidelmann. "Our partnership with Dachser and our active involvement in the European Food Network have always yielded a vast array of opportunities for us and our customers. Over the past 25 years, the close relationship and communication we've had with Dachser have become part of our corporate culture."
About Dachser
Dachser, a family-owned company headquartered in Kempten, Germany, provides transport logistics, warehousing, and customized services in two business fields: Dachser Air & Sea Logistics and Dachser Road Logistics. The latter consists of two business lines: Dachser European Logistics and Dachser Food Logistics. Comprehensive contract logistics services and industry-specific solutions round out the company's range. A seamless shipping network—both in Europe and overseas—and fully integrated IT systems ensure intelligent logistics solutions worldwide.
Thanks to some 31,000 employees at 393 locations all over the globe, Dachser generated consolidated net revenue of approximately EUR 5.7 billion in 2019. That same year, the logistics provider handled a total of 80.6 million shipments weighing 41.0 million metric tons. Country organizations represent Dachser in 44 countries.
For more information about Dachser, please visit www.dachser.com.
Do you want to contact us?
European Food Network
Christian Auchter
Consultant for Corporate Public Relations
Tel.: +49 831 5916-1426
Mail: christian.auchter@dachser.com
Thomas-Dachser-Str. 2
87439 Kempten
Germany
Link notice
You are now leaving the European Food Network website and will be automatically redirected to the website .
Do you agree?