The language of this website is controlled by the settings of your browser. You can select other languages via "Change"!
Staying on course with sustainable logistics
The partners of the European Food Network recognized the new era of sustainability at an early stage, and are now proactively driving climate protection measures for the logistics sector.
This paradigm shift has become unstoppable. Heads of state and governments in the European Union have announced that all EU countries must be carbon-neutral by 2050 and have proclaimed the first major milestone for 2030: greenhouse gas emissions must be cut by a minimum of 55 per cent compared to their 1990 levels. But lawmakers are not the only ones urging a change in how we treat our environment; awareness of ecological issues is also rapidly increasing among consumers. A survey by the retail quality "trustmark" company, Trusted Shops, showed that 60 per cent of Germans support sustainability, and one in five would accept a price increase of up to five per cent if it boosted the sustainability of a product. Sustainability-related topics are also a major focus for retailers, manufacturers and service providers. Given this, the partners of the European Food Network are naturally tackling climate protection and sustainable logistics as a matter of priority, and are already implementing a range of measures in numerous areas.
These include:

Increased use of battery-powered electric vehicles and electric cargo bikes for city centre deliveries. More ›
In Switzerland, the first hydrogen fuel-cell trucks are already in use for long-haul freight. More ›
High-efficiency energy-saving refrigeration systems are reducing energy consumption.
Consolidating groupage shipments within Europe is significantly reducing the number of environmentally harmful empty runs
Warehouses and office premises have installed solar panel systems to supply them with in-house generated green energy.
As one of the initiators of the European Food Network, DACHSER has embraced an array of measures which will be implemented in the coming years as part of the company's long-term climate protection strategy. "Our priorities include buying green electricity and expanding solar panel systems for generating renewable energy. But our main focus is on efficient logistics and technological innovations, including alternative vehicle drives", explains Stefan Hohm, CDO at DACHSER. "We do not intend to take this path alone, but will work with like-minded customers and partners seeking a proactive role in shaping the logistics industry's transition to low- and zero-emissions technologies. We firmly believe that this is the only way for us to support the goals of the Paris Agreement and the climate goals of the European Union and many other countries over the medium and long term." More ›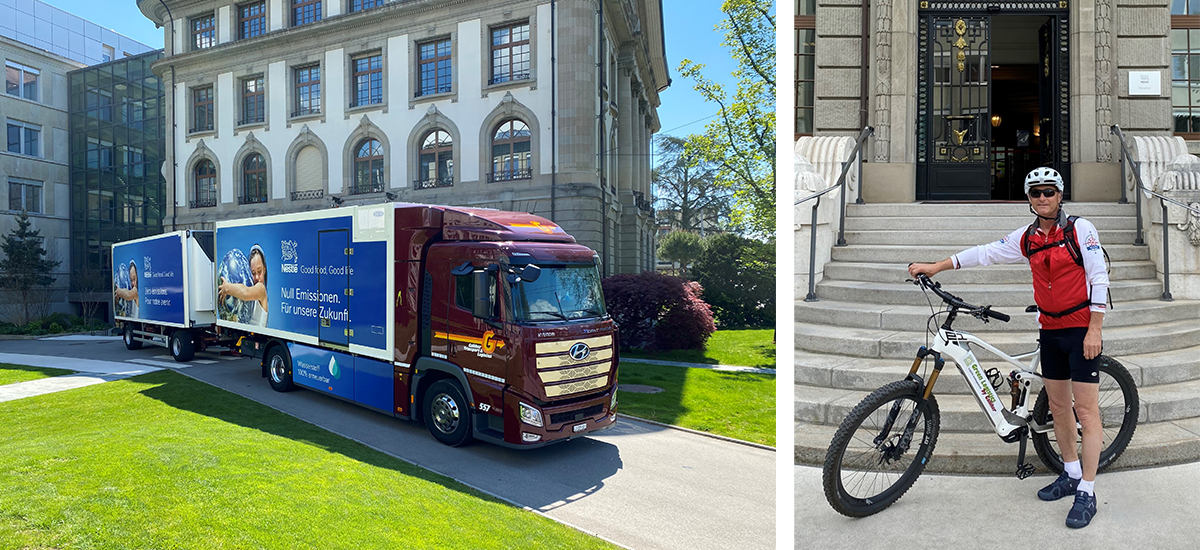 l.: One of the new hydrogen-powered trucks already used by Galliker in Switzerland on regular routes.
r.: Peter Galliker, CEO of Galliker Transport AG, visiting a customer on his e-bike
Sustainable logistics is likewise a major topic for Peter Galliker, CEO of Galliker Transport AG and long-standing partner of the European Food Network, and he has made it a priority for his company. And no wonder; Peter Galliker is one of the foremost proponents of green topics in the logistics industry as a whole.
Go to Galliker-Green Logistics website ›
He holds talks all over the world, is consulted by truck manufacturers over the drive system of the future, and implements climate-friendly logistics in his company with passion and persistence. In our interview, he describes his activities and traces how sustainability has become a passion for his family-operated company.
Mr Galliker, did you have a good commute to work today?
Peter Galliker: "Yes, I did, and thanks for asking! It's always a good feeling to be out and about on my e-bike. And I'm particularly happy when I see my employees following my example and using their e-bikes to come to work."
So you're setting a great example…
Peter Galliker: "...I'm well aware that I serve as a role model. After all, when employees see their boss going around on an e-bike, that has a certain impact."
Do you use your bike in bad weather too?
Peter Galliker: "Not so much. In bad weather I usually drive a Hyundai fuel-cell car."
That sounds very progressive, but not the kind of car a top executive would choose.
Peter Galliker: "No, not exactly! But my environmental awareness virtually rules out the choice of a high-volume petrol- or diesel-powered car. By the way, my brother has now switched to an electric Fiat Cinquecento."
So your conviction is converting others! Your family supports your green visions, and your employees are committed to sustainable projects in your company. It's an impressive record. What drives you?
Peter Galliker: "I have been deeply engaged in the topic for over five years. During this time my knowledge has grown – in step with my conviction that we must unhesitatingly set the logistics industry on course for sustainability, and play our part in combating the climate changes that are already having such dramatic impacts in many areas. We must also make sure we can offer our customers climate-neutral logistics services as fast as possible, to ensure we retain our competitive edge in the long term."
Isn't that a very costly plan?
Peter Galliker: "Yes, it is.
I have to be absolutely certain that I am doing the right thing – for example, when I order hydrogen fuel-cell trucks and use them for our operations.
They still cost far more to buy and run than conventional diesel-powered trucks."
You already have six hydrogen fuel-cell trucks and nine e-trucks in operation and have ordered more, which have been delayed due to the current high level of demand. How do you finance these high costs? Customers are unlikely to be willing to pay the extra for their transport services.
Peter Galliker: "We addressed the issue of financing in great depth and found that establishing the 'Galliker Förderverein' – a development association – was the best solution for us to manage financing."
A development association? How does that work?
Peter Galliker: "It's quite simple. We receive a specific amount from our business partners through the development association, and we then double that amount. Our partners draw on the budgets they have for sustainability or marketing, say, and I have the full support of the family to contribute the necessary funds from our side."
And you use the funds to cover the additional costs of climate protection which arise in your day-to-day operations?
Peter Galliker: "...Yes, that's exactly how the model works. For example, our Euro 6 trucks currently run on synthetic diesel (HVO), and have thus reduced their CO2 emissions by up to 90%. While this synfuel is a more eco-friendly alternative, its big disadvantage is its significantly higher price. I can use the financing from our development association to cover these additional costs, and thus deploy the trucks powered by the synfuel – which is more expensive, but better for the environment – on our daily scheduled routes."
Are you involved in any other projects that are helping to slash CO2 emissions?
Peter Galliker: "Yes, we are. We've launched a real flagship project. The permissible length for trucks in Switzerland is one metre longer, so we quickly had the idea of installing two batteries behind the cab of our e-trucks. The benefit is obvious: we've doubled the range of the truck from its previous distance of 250 km to 500 km. The trailer also has a dynamo on the rear axle that enables the truck to power itself. The refrigeration system can operate for up to three hours even when the truck is parked, and we reach our target of a completely carbon-free vehicle."
What other sustainability topics in your company are you passionate about?
Peter Galliker: "The majority of our refrigeration units currently run on ammonia. On the one hand, ammonia has the benefit of being climate-neutral and does not damage the ozone layer. However, it is a chemical compound made up of nitrogen and hydrogen, and is extremely toxic to ground-water. There are coolants that are more eco-friendly –but the coolant itself and the refrigeration systems are a lot more expensive to buy. Undeterred, we are currently planning where and how we can use the new technology to initiate process optimizations and minimize risks in handling hazardous substances."
Did you have the idea of opening an Italian restaurant called "Piazza Verde" at your headquarters for sustainable dining?
Peter Galliker: "It's not a bad idea, but no, that wasn't what we did! Our aim was to put a face to the 'green logistics' that we operate here at Galliker. To do this, we set up a Green Corner – known in the company as our 'Piazza Verde' – and brought it to life. It's now home to a permanent exhibition of all topics related to our 'green logistics' activities at the company –and it's where we showcase our Solar Award and the Watt d'Or award we received for outstanding services to the energy sector..."
…So, do good and talk about it?
Peter Galliker: "I think it's important to keep our eyes on what has already been achieved, to keep us motivated and inspire us to continue along our path..."
... And on that note, thank you for a very interesting interview!
You can find out more about the e-trucks from the transport service provider Galliker here ›
Do you want to contact us?
European Food Network
Christian Auchter
Consultant for Corporate Public Relations
Tel.: +49 831 5916-1426
Mail: christian.auchter@dachser.com
Thomas-Dachser-Str. 2
87439 Kempten
Germany
Link notice
You are now leaving the European Food Network website and will be automatically redirected to the website .
Do you agree?